Contact Us For
A Free Quote!
Products & Services
Basement Repair Services
Wet Basement Solutions
Seepage Solutions
Wall Repair
Drain Tile Installation
Dry Basement Systems
Exterior Waterproofing
Flooded Basement Repair
Foundation Waterproofing
French Drain Installation
Interior Waterproofing
Leaky Basement Repair
Sump Pump Drainage
Sump Pump Installation
Sump Pump Repair
Sump Pump Battery Backup
Foundation Repair Services
Crack Repair
Foundation Repair
Wall Cracks
Block Foundation Repair
Bowing Wall Repair
Commercial Foundation Repair
Concrete Crack Repair
Piering Repair
Settlement Repair
Underpinning Repair
Wall Repair
Helical Piers
Home Foundation Leveling
Residential Foundation Repair
Sinking Foundation Repair
Slab Foundation Repair
Structural Repair
Crawl Space Repair Services
Access Doors
Dehumidifier
Drainage
Encapsulation / Liner
Insulation
Moisture Barrier / Control
Mold Removal
Vapor Barrier
Before and After Pictures from Denver
Brick Stair-stepping Solution
Water Intrusion in Denver
Leaky Basement
Company Awards
Complete Basement Systems took home our award for #14 in the nation for CleanSpace sales for 2012/2013! This ranking is...
[Read more]
Rod Martin's Complete Basement Systems earns 36th place for total sales in the dealer network for 2012/2013....
[Read more]
Complete Basement Systems earns 21st place in Foundation Supportworks Network for 2012/2013....
[Read more]
More Awards
Complete Basement Systems of CO serving Denver, CO
For a FREE no-obligation basement waterproofing, foundation repair, crawl space repair estimate in Denver, CO, please fill out the form to the right and Complete Basement Systems of CO will contact you shortly.
Was very pleased with the whole process. Would highly recommend your company....
Happy Customers Surrounding Denver, CO
Testimonials
Reviews
Work requests
Click the icons to see what our customers had to say.
Reviews From Denver
Denver, CO

Tuesday, Jun 12th, 2012

Denver, CO

Wednesday, Aug 15th, 2012

"The crew was running a little late. Crew called me letting..."

Denver, CO

Tuesday, Sep 25th, 2012

"I would still like a writted evaluation of the state of my..."
Responsible basement waterproofing, foundation repair, crawl space repair company serving Denver, Colorado
We not only adhere to the highest industry standards, we strive to be the industry leader in the home improvement related services we provide. We also use state-of-the-art products and technology which are designed to fix your home. We are the authorized Basement Systems dealer in Denver, CO.

Services we offer in Denver:
Wet/flooded basement waterproofing solutions.
Lifetime warranty on all perimeter waterproofing systems.
Foundation and structural repair solutions.
25-year warranty against manufacturing defects on foundation products.
Crawl space sealing with CleanSpace vapor barrier.
25-year warranty on crawl space encapsulation systems.
Financing Available
FREE written estimates and inspections, and fast installation
Job Summaries From Denver, CO
Vapor Barrier and Insulation Give Denver, CO Homeowner a Dry, Healthy Crawl Space
Charles T. was tired of dealing with the damp, dirty crawl space below his Denver, CO home. Unsure of how to handle the problem, he knew he needed the help of a professional contractor. While attending a local Garden & Home Show, Chris stopped by Complete Basement Systems of CO's booth to discuss his crawl space problem with a representative. After scheduling an appointment, waterproofing expert Jonathon Beach went out to the home to inspect the crawl space and recommend some products and repairs that could create a dry, healthy space.

Based on the suggestions, foreman Jorge Cervantes and his crew installed a crawl space liner, wall insulation and floor insulation. The CleanSpace vapor barrier system was installed to prevent moisture from passing through the walls and floors. In addition to keeping the space dry, the liner will also create a more usable space. SilverGlo insulation was installed on the walls and TerraBloc insulation on the crawl space floors to reflect heat back into the crawl space to improve the comfort of Charles' living space above. Insulating the crawl space will also provide greater energy savings!

Charles couldn't be happier with the results. He can now use his crawl space for storage without having to worry about his belongings getting wet and ruined. While repairing his crawl space, our contractors discussed some foundation issues with the homeowner. Charles was so impressed with the work that Complete Basement Systems of CO did on his crawl space, he won't even have to think about who to call for future home repairs!
Denver, CO Basement Gets a Waterproofing Makeover
When Denver homeowner Rick D. noticed his sump pump turning on more than usual and a small leak in his foundation wall, he knew he needed to get in touch with a waterproofing contractor before the problem got any worse. Rick came across Complete Basement Systems of CO's website and decided to get a quote. After reading the testimonials of other customers who had been dealing with a leaky basement, he knew this was the contractor for the job!

Soon after making an appointment, it wasn't long before waterproofing expert Jason Martin met with Rick to inspect the basement and come up with an effective plan for repair. Foreman Jose Pena was soon on the job to begin repairing Rick's leaky basement. While small cracks are common in foundation walls, it is still a problem that needs to be addressed to avoid future water damage. Jose and his crew used the FlexiSpan Foundation Crack Repair System, a warranted solution that never dries out, remains bonded even with wall movement, and seals the crack permanently. They also installed an UltraSump sump pump with a Zoeller pump to keep the basement dry, even during heavy rain. An IceGuard discharge line was installed to ensure water drainage even if the pipes freeze or become blocked. The line was run to a LawnScape drainage outlet to move the water away from the house.

Rick was happy knowing that his Colorado basement would be protected the next time it rained thanks to a reliable sump pump and basement waterproofing system installed by an experienced team of waterproofing experts!
WaterGuard and BrightWall Keeps Denver, CO Basement Dry and Mold-Free
Marty E. began to smell a musty odor coming from the basement of her duplex. She suspected that moisture and mold might be causing the smell and decided to contact a professional to handle the problem. After visiting their website and reading reviews from other satisfied homeowners, Marty contacted Complete Basement Systems of CO and they sent out waterproofing expert David Soares to inspect her basement and suggest a permanent solution.

The musty smell in the basement was due to moisture and humidity. Foreman Jorge Cervantes and his crew installed a drainage system and wall covering system to promote drainage and prevent moisture and standing water. A WaterGuard drainage system creates space between the floor and wall to drain wall seepage without allowing dirt and debris from the floor to clog the drain. BrightWall panels were installed on the unfinished walls to keep moisture and humidity at bay, and to allow water seepage to be directed into the WaterGuard system. Brightwall is a durable, washable product that will also protect against mold growth - the thing that Marty was worried about!

With trusted waterproofing products installed, Marty will no longer have to worry about mold or moisture becoming an issue in her basement!
Press Releases From Denver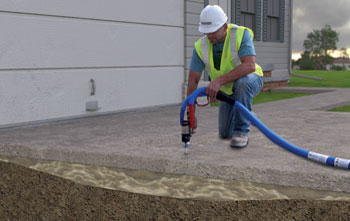 Complete Basement Systems of Colorado is excited to announce the addition of the state of the art PolyLEVEL system for structural repairs in the greater Denver area....
[Read more]
Serving the following Denver, CO zip codes
80201, 80202, 80203, 80204, 80205, 80206, 80207, 80208, 80209, 80210, 80211, 80212, 80214, 80215, 80216, 80217, 80218, 80219, 80220, 80221, 80222, 80223, 80224, 80225, 80226, 80227, 80228, 80229, 80230, 80231, 80232, 80233, 80234, 80235, 80236, 80237, 80238, 80239, 80243, 80244, 80246, 80247, 80248, 80249, 80250, 80251, 80252, 80256, 80257, 80259, 80260, 80261, 80262, 80263, 80264, 80265, 80266, 80271, 80273, 80274, 80279, 80280, 80281, 80290, 80291, 80293, 80294, 80295, 80299